Wilson Bohannan Lock Company

Padlocks
General Purpose
High Security
Interchangeable Cores
Door Key Compatible
Cylinders
Rim and Mortise
Special Features
Custom Identification
Lockout/Tagout
Color Coding
Accessories
Master Keying
Keys
Special Features
Master Keying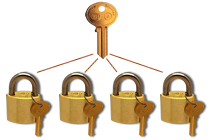 A master key is a single key that will open multiple lock/sets that are each keyed separately. These can be padlocks and other types of locks, such as door locks. Once the system has been set up, additional locks can be added to accommodate future expansion.
A master keying system is often used with lockout/tagout systems, where one master key is needed to open multiple padlocks.
Wilson Bohannan can work with you to create a master keyed system that fits your safety/security needs, and matches up with your organization's growth plans.
Grand Master Key Systems

A grand master key is one that will open locks managed by multiple master keys. We can assist you to develop grand master keying systems, with as many tiers of master keying as you need.