Padlocks Accessories
Lockout / Tagout Systems - Special Features
Lockout Hasps
These safety lockout hasp padlock accessories are specifically designed for locking out power sources such as disconnects, switches or valves. Zinc-plated to resist rusting, these hasps feature interlocking tabs that prevent improper removal. Red vinyl coating serves as a warning tag.

Each hasp will take up to 6 padlocks, and accept a maximum shackle diameter of 5/16". Available in 1" or 1 1/2" I.D. locking mechanism dimensions.
Sleeves
Often used as an integral part of a lockout/tagout program, our durable sleeve padlock accessories are perfect solution for a long-lasting color coding system. Quickly differentiate padlocks from different departments or units with sleeves available in the many colors listed above.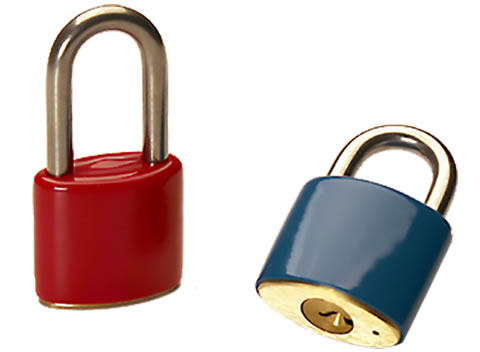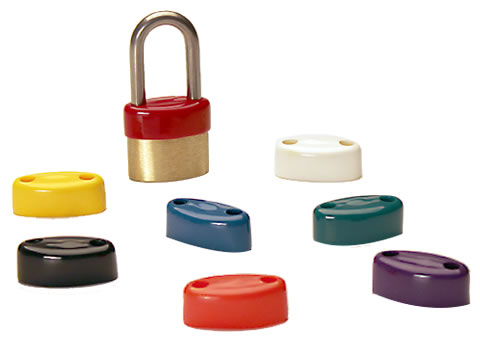 Caps
Caps add flexibility to your color coding system. The long-lasting caps are removable and interchangeable; but cannot be removed when the padlock is locked. Available in the many standard colors – or in any other color you desire.
ID Tags
Identification Tags are sold individually, mounted on padlock bodies, or on shackle with collar. Round tags are available in brass or enameled aluminum in the following colors: red, blue, green, orange, silver, gold and purple. Oblong tags are available in brass only. ID tags can be custom stamped with the words and/or numbers that meet your specifications.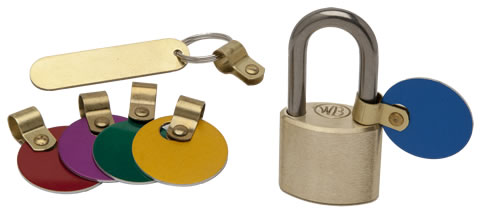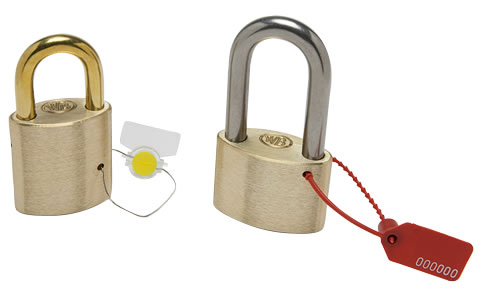 Tamper Evident
These padlocks provide all the protection and reusability of Wilson Bohannan padlocks, along with the tamper indication/deterrence feature of single-use seals. Tamper Evident padlocks feature a 1/8" diameter hole that passes through the body and shackle. Applying an indicative seal through this cavity prevents the padlock from being opened without first having to remove and destroy the seal.
Color Coding
Colors Available
Paint colors: OSHA Safety Colors are standard – Red, Blue, Green, Yellow and Orange.
Pin Striping colors: Red, Blue, Green, Yellow, Black, Purple, Orange, White and Gold.
Sleeve colors: Red and Blue.
Cap colors: Red, Blue, Green, Yellow, Black, Purple, Orange and White.
Tag colors: Red, Blue, Green, Yellow, Black, Purple, Orange, White and Gold.
NOTE: We can provide painted padlock bodies and caps in any color you need. Please provide PMS number or sample of color you require.