Wilson Bohannan Lock Company

Padlocks
General Purpose
High Security
Interchangeable Cores
Door Key Compatible
Cylinders
Rim and Mortise
Special Features
Custom Identification
Lockout/Tagout
Color Coding
Accessories
Master Keying
Keys
Special Features
Padlock Accessories
Sometimes it's the little things - like accessories - that make all the difference. We offer just about every padlock accessory there is:
For added security and instant identification, we can custom monogram your padlocks with company or employee name, departments, numbers, colors, artwork, logo - whatever you want.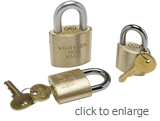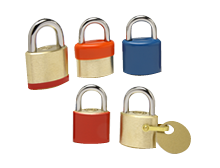 Color Coding
Quickly differentiate padlocks from different departments or units by color coding them in a variety of ways:
Painted bodies
Pin striping
Sleeves
Caps
ID tags
Paint colors: OSHA Safety Colors are standard – Red, Blue, Green, Yellow and Orange.
Pin Striping colors: Red, Blue, Green, Yellow, Black, Purple, Orange, White and Gold.
Sleeve colors:  Red and Blue.
Cap colors: Red, Blue, Green, Yellow, Black, Purple, Orange and White.
Tag colors: Red, Blue, Green, Yellow, Black, Purple, Orange, White and Gold.

NOTE: We can provide painted padlock bodies and caps in any color you need. Please provide PMS number or sample of color you require.
Often used as an integral part of a lockout/tagout program, caps add flexibility to your color coding system. The long-lasting caps are removable and interchangeable; but cannot be removed when the padlock is locked.  Available in the many standard colors listed above – or in any other color you desire.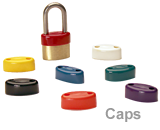 ID Tags
Identification Tags are sold individually, mounted on padlock bodies, or on shackle with collar. Round tags are available in brass or enameled aluminum in the following colors: red, blue, green, orange, silver, gold and purple. Oblong tags are available in brass only. ID tags can be custom stamped with the words and/or numbers that meet your specifications.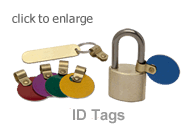 For added security and instant identification, we can provide numbered padlocks and accompanying same-numbered keys.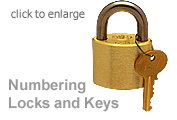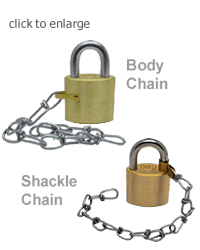 When you need to safeguard your padlocks, and prevent them from being dropped or accidentally removed, Wilson Bohannan offers two varieties of security chains.
Shackle Chain -
secured when the padlock is locked; the chain is easily removed when the padlock is unlocked.

Body Chain -
the chain is permanently attached to the lock body.
Chains are available in 9" or 15", in brass or steel. Heavy 3/0 Bulldog chain also available Custom sizes available.
Especially popular in the transportation industry, rubber boots keep mud, slush and other undesirables from entering, accumulating (and sometimes, freezing) inside the keyhole. Shackle strap keeps the boot from being misplaced when the keyhole is accessed. Available in 1½" ,1 ¾" and 2" versions.


These safety lockout hasps are specifically designed for locking out power sources such as disconnects, switches or valves. Zinc-plated to resist rusting, these hasps feature interlocking tabs that prevent improper removal.  Red vinyl coating serves as a warning tag.
Each hasp will take up to 6 padlocks, and accept a maximum shackle diameter of 5/16". Available in 1" or 1 ½" I.D. locking mechanism dimensions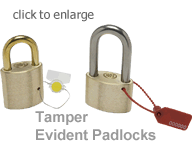 Tamper Evident Padlocks
These padlocks provide all the protection and reusability of Wilson Bohannan padlocks, along with the tamper indication/deterrence feature of single-use seals. Tamper Evident Padlocks feature a 1/8" diameter hole that passes through the body and shackle. Applying an indicative seal through this cavity prevents the padlock from being opened without first having to remove and destroy the seal.
Padlocks can be configured so that the key will not come out until the padlock has been locked. This option helps to prevent people from accidentally forgetting to relock the padlock. Available as a "no extra charge" option only on our High Security, Interchangeable Core and Door Key Compatible padlocks.